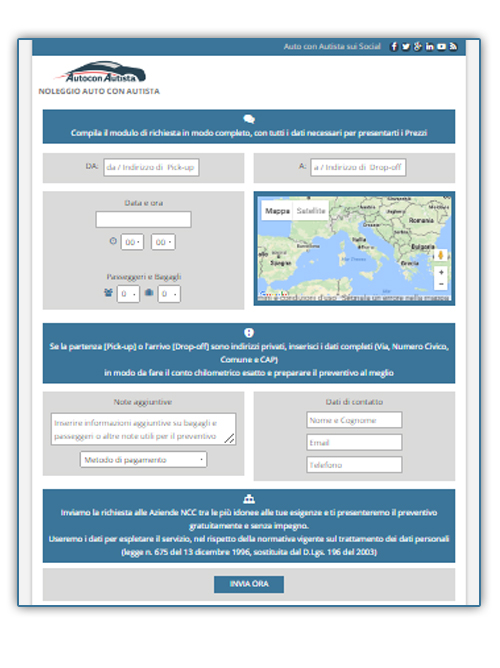 Enter trip data, route, number of passengers and additional note
Enter journey information and all required data to asses at best the Price for Your trip.
Fill in all the fields of the quote request form: Pick-up Address is the starter address for the service, the point of appointment with the Driver.
Drop-off Address is the destination address, where the service ends.
Please enter complete data (Street, Number, City and Postcode), if the pick-up address or the Drop-off address are private addresses.
Once You entered date and time , number of passengers and luggage , the route is displayed on the map in this request form and Kilometres and travel time are calculated.
Fill out the "Special request/note" field for any special requests, such as if You need return trip or scheduled breaks before arrival at Your destination, if You request an hourly arrangement or a tour.
Fill in the "Special request/note" field to indicate flight number or ship number, special baggages, animal transport, to request child seat and any other necessities for the service.
Enter your contact information, name, email, phone, send the request and You get the best estimate Price for free and without any obligation.
For quotation requests within 48 hours it's suggested to contact Us directly