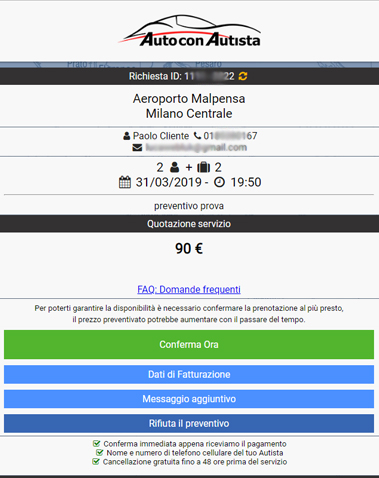 Book online the appointment with the driver and get data for direct contact
Book easily and online the appointment with the Driver and You receive His data for direct contact.
In Your quotation page look at the Price, confirm the transfer within 48 hours by the service and You receive the name, phone and email of Your personal Driver.
The NCC Companies that collaborate with AutoconAutista are fully responsible for the accuracy of data entered on the site and the car rental with Driver service provided to you.
Send a message from the quotation page if You need to contact Us, to indicate Street, Civic and City if pickup address or destination (drop -off ) are private addresses, to indicate the number of flight, ship or train and for any changes to Your reservation.
Free Assistance of our Staff for Your request.
Secure payments through Paypal Payment System.
Free cancellation within 24 hours.
For quotation requests within 48 hours it's suggested to contact Us directly